Why ENS is the best agency to work with
Posted: 8th March 2019
ENS is a leading recruitment, training and care provider with over 27 years of experience.
Based in Essex, we deliver cost-effective recruitment solutions specialising in the healthcare and commercial industries.
As well as being a care provider in our own right, we also provide mandatory and specialist training solutions too.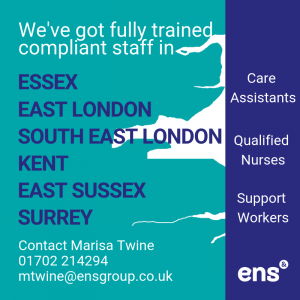 Why work with ENS?
In expert hands – As a care provider in our own right we understand your needs. Our care service is rated 'Outstanding' in the 'Safe' category by CQC. With ENS you'll be in expert hands.
Quality staff to go – All of our candidates have at least 6 months UK care experience and have passed numerous background checks before joining the ENS team. Trust us to provide only suitably skilled, local staff for your business.
Dedicated consultants – Every client receives a dedicated bookings consultant to provide a high quality, consistent service.
Flexible training for all – We provide classroom and eLearning training solutions for all mandatory training requirements and Care Certificate modules, as well as our new specialised courses.
Our training courses are suitable for an individual or a team, and delivered by industry veterans to your premises or in our training room.
Here when you need us most – We are available every day from 6am to 10.30pm and we have an emergency on-call facility outside of those hours! Our on-call team can provide staff profiles, helping keep our compliance streamlined all year round.
Staff profiles – Every supplied staff member will come with a fully compliant 'staff profile'. This contains key information about each candidate, a photo, training log and details of their right to work.
Call monitoring – We have a call monitoring system in place. This allows staff to log in and out of shifts by calling us via a landline on your premises. This system ensures accurate billing, reduces paper work and helps us stay one step ahead to ensure staff arrive on time!
Committed to mental health – Staff wellbeing is vital when it comes to delivering quality, which is why we've been partnered with local mental health charity, South East and Central Essex Mind since 2018.
A company you can trust – We're a well-established, family run recruitment company. As well as an 'Outstanding' rating in the SAFE category, we are a disability confident employer, TEAM and REC member, and compliant with the ISO 9001 standard. We're also members of ENEI and partners with local mental health charity, SECE Mind.
Don't just take our word for it – Over the years we've received some really positive feedback from our clients. You can read our testimonials here.
Back to news