Our epic 24hr Danceathon raises £1700 for SECE Mind!
Posted: 2nd May 2019
On Friday 26th April 2019, at midday, we kicked off our 24 hour Danceathon for mental health awareness and suicide prevention, our most elaborate and challenging fundraiser to date! Throughout the entirety of the 24 hour period we needed at least 2 dancers to keep grooving throughout the day. With no stopping, it was safe to say our dancers had quite the challenge ahead of them!
Just one week ago we kicked off our 24 hour Danceathon, where 13 DJs and over 40 dancers volunteered their time to help raise over £1,800 for #mentalhealth charity South East and Central Essex Mind. To celebrate, we've compiled a little montage of the event – enjoy! #FridayFlashbackYou can also read more about our epic Danceathon in our latest blog: https://bit.ly/2PIQnFj

Posted by ENS Recruitment Ltd on Thursday, 2 May 2019
Throughout the entire event, around 40 dancers volunteered their time and energy to help us raise money and awareness for local mental health charity, South East and Central Essex Mind (SECE Mind).
Dancers from ENS, local businesses, dance groups, people we support and even the general public all danced their collective socks off for 24 hours non-stop, helping us raise an astounding £1,886 for the cause – what an amazing turnout!
On top of that, a staggering 13 DJs contributed their expertise to our event for free, which helped keep our courageous dancers energised throughout the day and night.
Lastly, we received a number of donations from local businesses throughout the 24 hours. From free balloons to complimentary food and drink, all of these donations helped make our event an incredible success!
The £1,886 raised will be used to help SECE Mind fund facilities such as support lines and mental health counselling!
If you missed out, you can still pledge your support to the cause here too.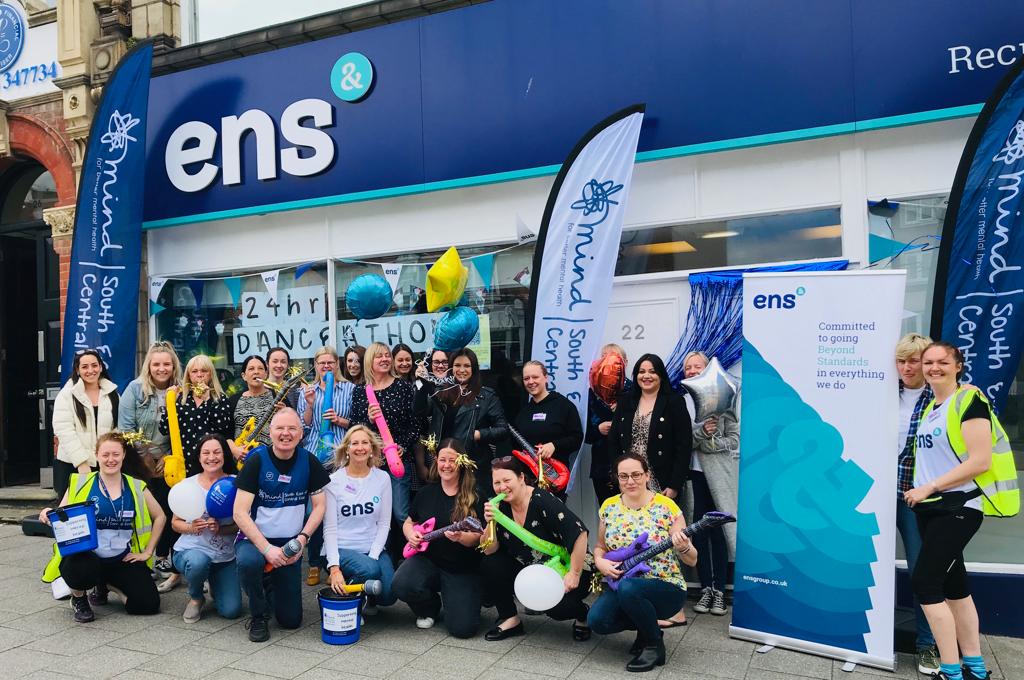 Thank you!
We really couldn't have done it without all of you. The positive support everyone gave us helped keep spirits high and kept the party going! We'd like to say a HUGE thank you to everyone who supported us throughout the day, it all helped an amazing cause!
We would like to say a special thanks to PRS and PPL for the free music license, Made you look Florists and Love and Kisses for the complimentary balloons and Hamlet Court Pub, Smith's Fruit and Veg, Kings Off License and Chicken Star for free refreshments throughout the event!
A huge thank you also goes out to all 13 DJs for their stellar work. Thank you to Steve, Dave Collins, Ian Pile, Ruth Hazel, Dan Newman, Sophia Rawlinson, Kev Daintree, Duncan Leslie, Chris Davison, Mark Lancaster, Rob Tocknell, Tim Sully and Sean Moriarty.
Lastly, we'd also like to say an extra special 'thank you' to the team at SECE Mind and their Development Manager Kris Stazaker. The ENS Danceathon committee; Liz, Chantelle, Sarah, Sam and Louise for all the preparation before and on the day, with organising and running the event lead by ENS' very own HR Manager, Vicky!
Back to news